Jeff Raynor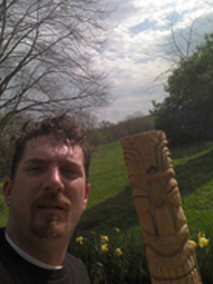 Jeff Raynor was born in Freehold, N.J. in 1974 and lived in Ormond Beach, Fl until 1998. Currently, he lives and works in Jacksonville, FL.
His initial inspiration for carving came when he saw the tiki's outside the Enchanted Tiki Room (formally "Tropical Serenade") while visiting Adventure land at Walt Disney World. Since he lived in Florida at the time, and palm is their native tree, it was easy to gather up logs. He and his friends started without a clue how to make them and just did what they could. Eventually it seemed he exuded more patience and ended up with four completed tiki's. Only one of the original four survived being left outside and weather forced the other three to move on to the tiki gods.
He brought four uncarved palms with him when he relocated back to N.J. and after a few years slowly finished them up. His interest began to peak again in 2011 but was out of logs. Luckily a friend, Jason Selezinka directed him to a gentleman in Gainsville, FL who also carves tiki's. Eventually calling him, he made a new friend with the same hobby and re-discovered a love and enjoyment for carving. With time, his goal is to evolve his carving skills and produce a wider variety of looks for his pieces.
The Process:
Most of the artists tiki's are made with just a chisel and bare hands. He uses a dremel for the detail work and a chainsaw for deeper cuts and to touch up the ends. After the carving is complete, a torch is used to burn it. The soot is swept away with a broom and sandpaper is used to create contrast. Finally, a clear coat of Polyurethane is used to preserve the life of the tiki.
About The Tiki's:
No two tiki's created by Jeff are alike. Each tiki is unique to a design thought of before hand or designed with the customer's wants and needs in mind.
Jeff is available to be commissioned for tiki carvings. Please contact him directly at
FreeholdRAYNOR@aol.com
for pricing.
---
---